What is a suction hose?
A cross-section of a suction hose, showing its smoothed bore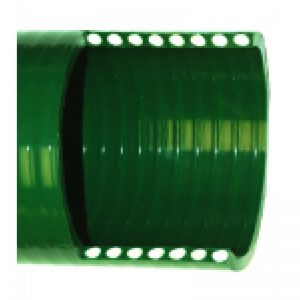 Suction hoses, sometimes called 'hard suction hoses', are a semi-rigid hose, often made from a flexible PVC that encases a rigid PVC helix. They operate under negative pressures, which means that a suction hose draws water from an unpressurised (or static) water source. This is known as a drafting operation.
Using a suction hose in a crisis situation would involve the need for transporting water from one place to another. There are two main examples of this. The first is in the case of a fire, as firefighters need to source water in large quantities to put it out. The second is in the case of a flood, where vast amounts of water needs to be extracted from a particular area as soon as possible.
A suction hose needs to withstand the more extreme situations it is used in. Its ridged exterior gives it flexibility and maintains the strength of its PVC makeup. Its smooth bore (interior) allows for a more effective suction.
Suction Hoses in the Fire Brigade
Firefighters training Army servicemen how to use a suction hose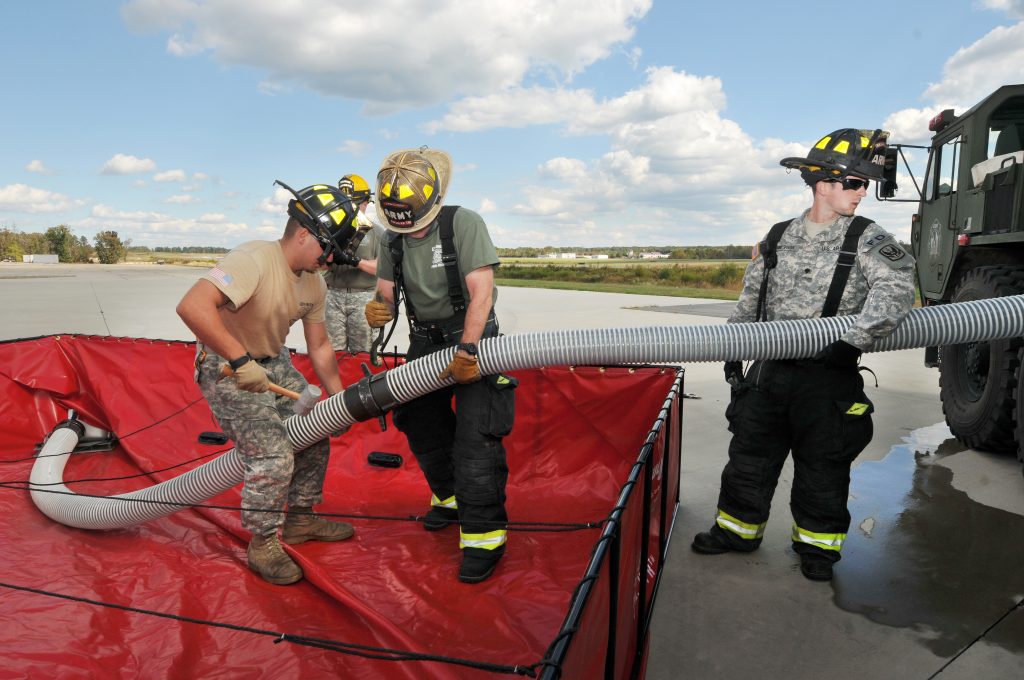 The fire brigade use suction hoses as a way of sourcing water from unpressurised sources, such as a portable water tank or pool. Suction hoses are also used in rural areas to draft water from lakes or ponds into pumps. They allow firefighters to use water from various sources, and not be reliant on finding a hydrant for pressurised water.
Suction hoses are rigid, relatively short (around 10 feet or 3 metres), and not built to withstand pressurised water. As a result, they are not used to fight fires in their own right. They are for sourcing water, from which an attack hose fights the fire.
Combating Flooding with a Suction Hose
Flood control with suction hoses on a British high street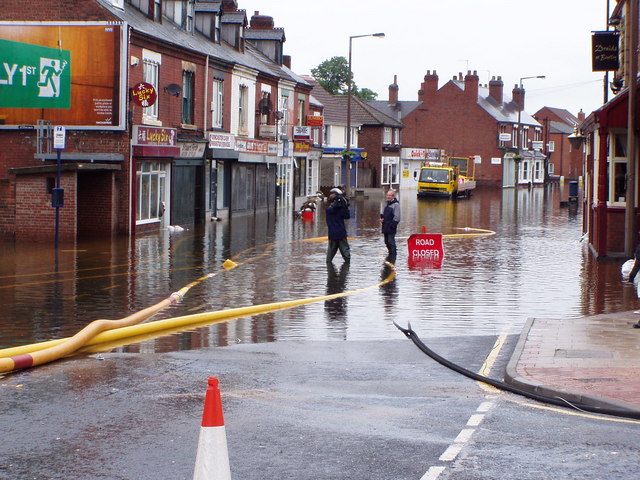 Suction hoses are used as an attachment to a water pump for flooding. The motor in the pump creates a vacuum, which pulls the water up the hose. A hard suction hose is sturdy, and can withstand large quantities of water if well-maintained. For instance, suction hose filters prevent loose debris from entering and damaging the hose.
We've written on how to deal with flood water damage in an earlier blog post, and we'd recommend looking at that to find out the best practices when faced with a flooding crisis. It includes details on preventative measures as well as how to make use of other products to help avoid long-lasting water damage.
Remember the 2007 UK floods? Heavy duty suction pumps were used nationwide to help remove the water from the affected areas, and helped to prevent further damage by the continued heavy rain. The fire brigade used their suction hoses to assist in the flood clearance, which became more important after the damaged cause to many sewage works and pumping stations.
Suction hoses are an integral part of relieving a variety of crisis situations. We offer a range of medium and heavy duty suction hoses for order and delivery. Whether you need one for a small emergency pump in the attic or a business in need of large quantities, we can tailor our hoses for your needs.
If any needs for the concrete hose, please contact us.
Tel: +86-532-88799936
Fax:+86-532-80867065
Email: [email protected]
Skype: kingdaflex
Whatsapp: 008618562767380